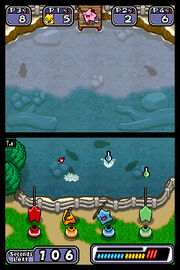 Fishing Derby is a mini-game in The Legendary Starfy. The goal is to catch as many fish as the player can before time runs out.
When Starly appears on the scene, a big fish appears. It turns out to be Moe, and he gives a treasure to you that gives you a Lot of points.
How to play
[
]
Slide your Stylus from your player to the pond.
Wait for a fish to bite.
Slide the Stylus from the pond to your player.
Don't let the meter reach the very end, or you'll let go of your fish!
Fish meter
[
]
Black fish: 1 point
Red fish: 2 points
Gold fish: 3 points
Moe's Treasure: 5 points