Super Smash Bros. Brawl
Developer
Sora Ltd.
Publisher
Nintendo
Release date(s)
January 31 , 2008
March 9, 2008
June 26, 2008
June 27, 2008

Genre
Fighting
Rating(s)
CERO:
ESRB:
PEGI:
OFLC:
Platform(s)
Wii
Mode(s)
Single player, Multiplayer, multiplayer online
Super Smash Bros. Brawl (Great Fray Smash Brothers X in Japan) is the third game to the Super Smash Bros. series of games. The game features many characters from the Nintendo world fighting each other and introduces third-party characters Sonic the Hedgehog and Solid Snake.
Starfy's Appearance
Edit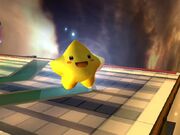 Starfy has a rather very small role in Brawl, which is one of the many Nintendo characters as an Assist Trophy. He is known as one of the weakest, because of the fact the characters could attack and push him off the stage, unlike other Assist Trophies. The only thing he does is use Star Spins.
In addition, both Starfy and Starly (called Stafy and Stapy respectively) appear as regular trophies, and Starfy, Starly, Moe, Chonmagyo, Seiuchi-kun, and Herman appear as stickers as well.
Community content is available under
CC-BY-SA
unless otherwise noted.